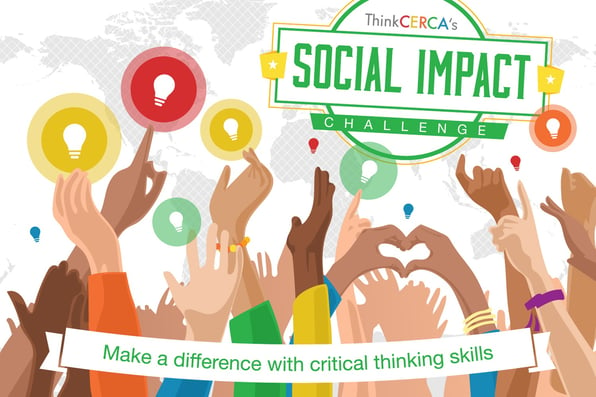 Two Weeks Left Before the Holidays: Your Social Impact Challenge Plan
The end of the year is approaching, and as former educators, we know all too well about secretly counting down the days (and hours?!) until the holiday break. This hectic time is often filled with special assemblies, activities, and festivities. While fun, all of this cheer can make it difficult to complete anything, besides eating that tray of sugar cookies.
We've decided to give you our gift a little early this year. We've put together the following two-week guide to help your classes conquer this year's Social Impact Challenge just before the holiday break (deadline extended until December 18th!). If you haven't heard about it yet, this classroom contest encourages students to pitch their ideas for a social enterprise that addresses a problem they see in their community or around the world. Through this challenge, we hope students will make the connection between the critical thinking skills they are developing in school and how they apply to solving real-world problems.
With help from the amazing Erika Utter, 4th grade teacher at Hollywood Academy of Arts and Science, and ThinkCERCA's very own Senior Success Manager, Laura Holmes, we rounded up the best strategies from the field to share with you.
DAY 1: Introduce the Social Impact Challenge

Introduce your students to the concept of social impact with by identifying the skills needed to take action and make a positive change.
Try:
Model a QuickCERCA for your students (view our list of lessons here), taking notes on the individual or organization involved, the problem and why it is an important cause, the steps taken to solve the issue, and the impact it has had on others.
Allow students to discover the topic of this project independently. Ask your students to complete their own QuickCERCA, and provide a summary of what they read. As they share, they will notice the common trends of recognizing, analyzing, and solving a problem.
This downloadable Idea Tracker Handout will help student summarize, organize, and identify themes and key elements from each text.
DAYS 2-6: Assign Lessons and Set Expectations
Equipped with their Idea Tracker, students are ready to dive into the Challenge! Determine how many QuickCERCAs you would like your students to complete over the next five days, then assign!
Jigsaw:

With over 30 lessons to choose from, students can collaborate around ideas and build from alternative perspectives.

Student Choice:

Give students the choice to pick lessons from a set list and the responsibility to complete these in a timely manner.
DAYS 7-8: Brainstorm a Solution and Map Out a Plan
Using their notes, have students discuss the problems, solutions, and impact that they read about. Drawing inspiration from these QuickCERCAs, students should identify issues in their own communities, and the necessary steps to solve this problem.
Dedicate a day to help your students map out their ideas. Set up one-on-one conferences or pair them with peers to review their plan. Set clear expectations by reviewing the provided evaluation criteria for communicating solutions. Address additional factors of their presentation, such as appearance, delivery, organization, formatting, and more.

DOWNLOAD GRAPHIC ORGANIZER
DAYS 9-10: Create a Pitch
Have students prepare a pitch for their own social enterprise. Presentations can be created using the provided PowerPoint template or a variety of other tools like Adobe Voice, Google Slides, and a teacher favorite, Prezi. And if you want to help your students take their presentations to the next level, follow download Erika's multimedia rubric, which has guidelines for attractiveness, organization, sources, oral presentation, and workload.

DOWNLOAD ERIKA'S MULTIMEDIA RUBRICS
So, are you up for the challenge? Help your students turn their big ideas into reality and spark change in their community with this two-week plan. Contact Hilary at hilary@thinkcerca.com with any questions, feedback, or suggestions!
Hilary Lunkes