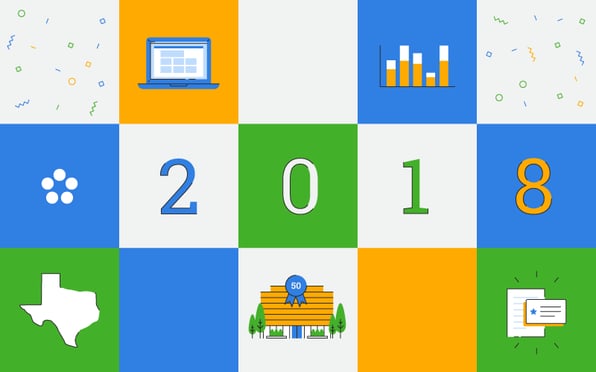 ThinkCERCA's 2018 Year in Review
Our mission – to spark courageous thinking – led to these 5 remarkable achievements.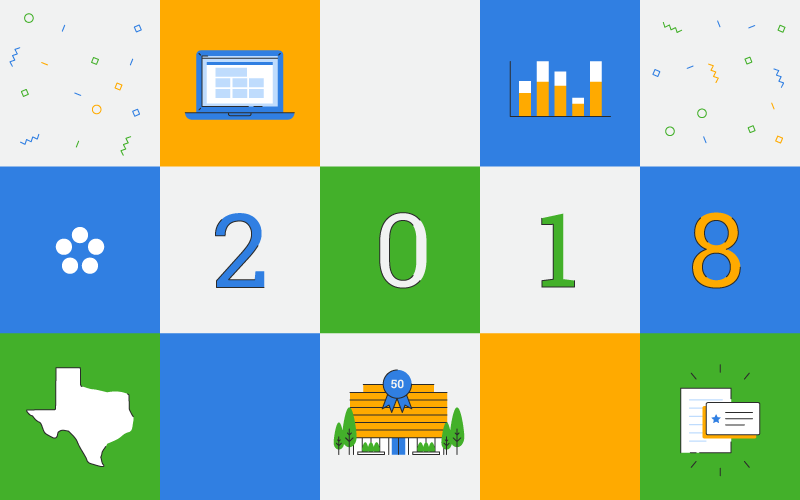 Day after day in 2018, our partners, teammates, and colleagues took on the difficult – but essential – task of helping students learn critical thinking skills.
As any educator knows, there's a lot that goes into this work; it's a team effort. And day-to-day, it may not seem like much has changed. But when we reflect upon the year – and all the progress that our students have made – we can see how those little moments amount to major milestones.
In a similar fashion, when we reflect on the big moments for ThinkCERCA in 2018, we know that each accomplishment represents years of effort by many people. As a team, we dedicate ourselves to this work because we believe in the same objective: sparking courageous thinking for students.
Considering these five achievements from 2018, we know we're making progress towards that goal.
---
What We're Proudest of in 2018
| | |
| --- | --- |
| | Texas State Adoption |
ThinkCERCA was just an idea in 2011, when our founder Eileen Murphy was an administrator in Chicago Public Schools. Just seven years later, the idea that became ThinkCERCA achieved a major milestone – a spot on the Texas state adoption list.
In 2018, the Texas State Board of Education approved ThinkCERCA as a core English language arts curriculum for grades 6-8. With this announcement, ThinkCERCA joined the ranks of hundred-year-old textbook publishers as a product with the confidence and trust of the second-largest state in the country.
Learn more about ThinkCERCA for Texas educators >>
| | |
| --- | --- |
| | ThinkCERCA Redesign |
After a year of testing, researching, and iterating, our team released a redesign of ThinkCERCA this past summer.
The new ThinkCERCA helps teachers approach writing instruction in a simpler, unified manner – by starting with the content area or theme and assigning leveled lessons around one Class Discussion Question. Informed by ample teacher feedback, the redesigned ThinkCERCA also makes classroom management more intuitive.
Learn more about the ThinkCERCA redesign >>
| | |
| --- | --- |
| | Best Places to Work |
In 2018, Crain's Chicago Business recognized what our team has known all along – ThinkCERCA is one of the best places to work in Chicago. In its annual list of 100 best workplaces, Crain's named ThinkCERCA the seventh-best company for women to work at, and the 33rd-best in Chicago overall.
Learn more about ThinkCERCA's "Best Places to Work" commendation >>
| | |
| --- | --- |
| | Academic Growth of Our Partners |
No accomplishment was more encouraging than the academic growth of ThinkCERCA schools this year. Our partners shared notes of their progress in many forms – via texts, emails, phone calls, and hallway conversations. A few educators even wrote about the impact of ThinkCERCA in online publications. In Tech & Learning, an assistant principal shared that after three years of partnering with ThinkCERCA, students now demonstrate "an overwhelming build in confidence with both their use of technology and their written and oral work as opposed to classes who are not using the program."
Additionally, a case study with Bibb County School District in Georgia showed that after one year of partnering with ThinkCERCA, 22.5% of students advanced their ELA achievement level on the end-of-grade Georgia Milestones. Eighth-grade students gained an average of 17 points on the assessment, compared to a gain of just 1.2 points gained in the prior year.
| | |
| --- | --- |
| | External Recognition |
In 2018, ThinkCERCA became one of the few literacy products to earn a 5/5 rating from Common Sense. In their review, CommonSense stated that ThinkCERCA "fills a critical void in the world of online reading and writing instruction, and really digs deep into substantive textual analysis and well-structured writing." Common Sense also named ThinkCERCA one of its top 15 picks for digital reading apps and websites.
The Illinois Association of Teachers of English (IATE) also honored ThinkCERCA, naming it a "Classroom Essential" and the organization's top pick for high school English teachers. ThinkCERCA, IATE shared, "provides a high quality product that can support student growth and free teachers to do the important work of building relationships and exploring content with students."
Learn more about CommonSense Media's 5/5 review >>
---
While we're proud of the progress we and our partners have made in 2018, we know the work to spark courageous thinking is never truly complete. Looking ahead to 2019, we're excited to build upon the work that's been done and help more educators empower their students with critical thinking skills.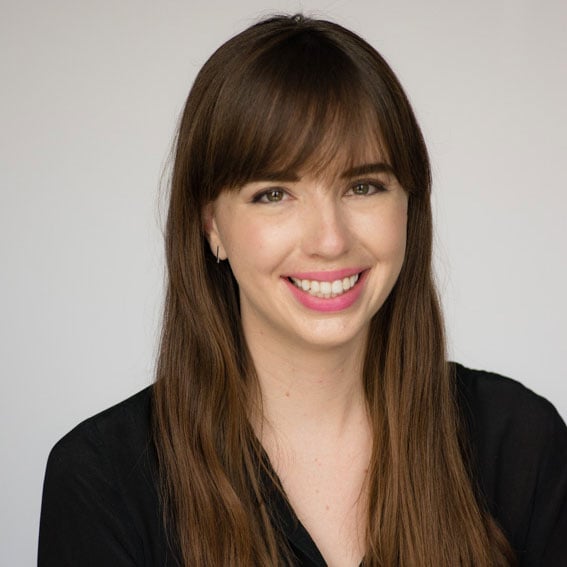 Mallory Busch
Mallory Busch is ThinkCERCA's Editor of Content Strategy. A graduate of Northwestern University, Mallory came to ThinkCERCA from stops in audience strategy at TIME magazine and news applications development at Chicago Tribune and The Texas Tribune. She holds degrees in Journalism and International Studies, and was a student fellow at Knight Lab in college.