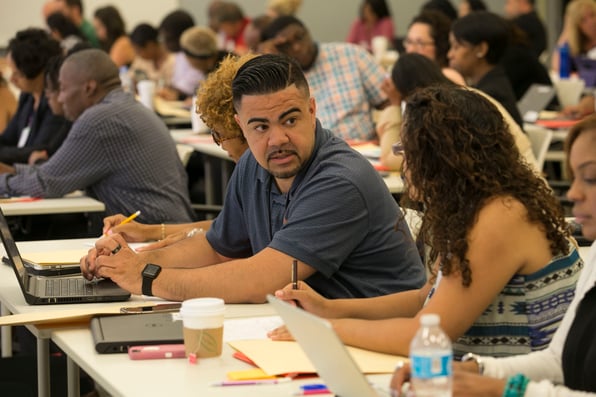 Building Community Between Teachers and Admins
Planning ideas and strategies for creating strong relationships with your teachers
So, you've already planned your school PD, identified goals for the year, and know your rollout plan… but how are you going to build community and culture with your teaching staff? If you're still working out the details, that's okay — summer isn't over, yet!

With each school year comes a new set of priorities, goals, and strategies. To reach these goals and provide the best learning environment possible for your students, it's important to establish good relationships and culture with your faculty. A recent report for the Center for American Progress found that "the quality of formal partnerships between teachers unions, administrators, and teachers at the school level is a significant predictor of student performance."

Before the first day of school rolls around, use the practices outlined below to build out your teacher-admin strategy.
Establishing Relationships
Building relationships with your team members is an integral part of an administrator's duties as a great team is the foundation of any school's success. The start of a new school year is the perfect time to get to know your teachers, no matter if it's their first day or their 1,800th.

Lately, more admins are taking a page out of the corporate handbook, so-to-speak, by organizing team building exercises with their teachers. These fun group activities, albeit cheesy to some, help people loosen up, increase morale, and create a sense of belonging. Moreover, there's substantial scientific evidence that shows team building can have measurable, positive effects on team performance and ultimately, student outcomes.

You can nurture these relationships throughout the year by making time for small talk in between classes or after school, attending staff functions, creating common planning times, and scheduling one-on-one check-ins.
Developing a Sense of Community
Every year, you and your team work toward a common set of goals, so use this time to brainstorm ideas and strategies together. Have people take ownership of projects they're interested in. The more ownership your team feels throughout this process will influence how much they invest in the work. Make sure you set aside time to review data and debrief progress toward these goals together throughout the school year.

Aside from collaborating on instructional topics, have your team discuss how they would like their classrooms or hallways to look, and develop some resources for that together. For example, try having groups collaborate on hallway boards.

To improve transparency across teams, clearly identify all of your teams (e.g., grade, content, ILT, DLT, etc.) up front, and let them discuss the scope of their teams work with everyone.

Lastly, present and finalize consistent terminology, structure, and language across your building, and start practicing it now. For instance, if your school refers to students as "scholars," you should make that clear to faculty sooner rather than later.

As humans, we all have an innate need for "connectedness" and belonging; naturally you want your team to feel like they are part of a caring and connected community. By implementing practices that develop culture and strong teacher-admin relationships on day one, you're laying the groundwork for a successful school year.
Alexandra Pratt
Alex is an experienced content strategist, digital marketer, and storyteller. Prior to joining ThinkCERCA, she worked at Yik Yak, a mobile app startup. As Yik Yak's Content Marketing Manager, she developed the company's content strategy, launched campaigns that amassed hundreds of thousands of new users, and grew Yik Yak's social media communities to over 2 million followers worldwide. In addition to working as ThinkCERCA's Inbound Marketing Manager, Alex is also a freelance content strategist and writer. In her spare time, she enjoys working out, spending time outdoors with her family, and volunteering with Autism Speaks and the Special Olympics of Georgia. Alex earned her Bachelors of Science from Kennesaw State University in 2011 and hopes to further her formal education in the years to come.