Important: Addressing Issues with the New Writing Lesson Design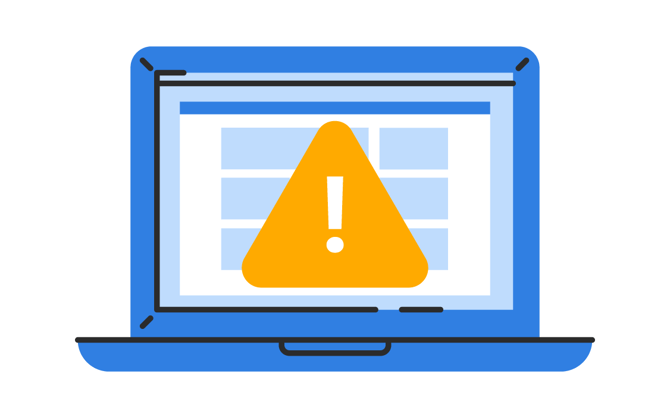 As you may know, some ThinkCERCA customers have experienced lost student work since we rolled out our new Writing Lesson design. We've made a critical decision to eliminate this issue moving forward and extend our sincerest apologies to every educator and student who was impacted.
Effective November 26th at 3 p.m. PT, we will be switching partners back to the ThinkCERCA Classic experience until we are confident that every educator and student will have the best experience possible. To prepare for the switch, we recommend that any in-progress Writing Lessons be completed by this date.
Our number one priority as an organization is ensuring educators like you have access to reliable, high-quality resources that support student growth. Until no school is at risk of losing student work, we must err on the side of caution. You and your students are counting on us.
As a growth mindset organization, it's important that we acknowledge where mistakes were made, learn from those, and commit to doing better for our partners. We recognize that we have work to do in order to regain your trust. Switching our valued partners back to ThinkCERCA Classic is the first step in this process.
ThinkCERCA's Classic experience has the same layout and features as last school year and has no reported cases of lost work. Additionally, all of our positive student results are based on the Classic design.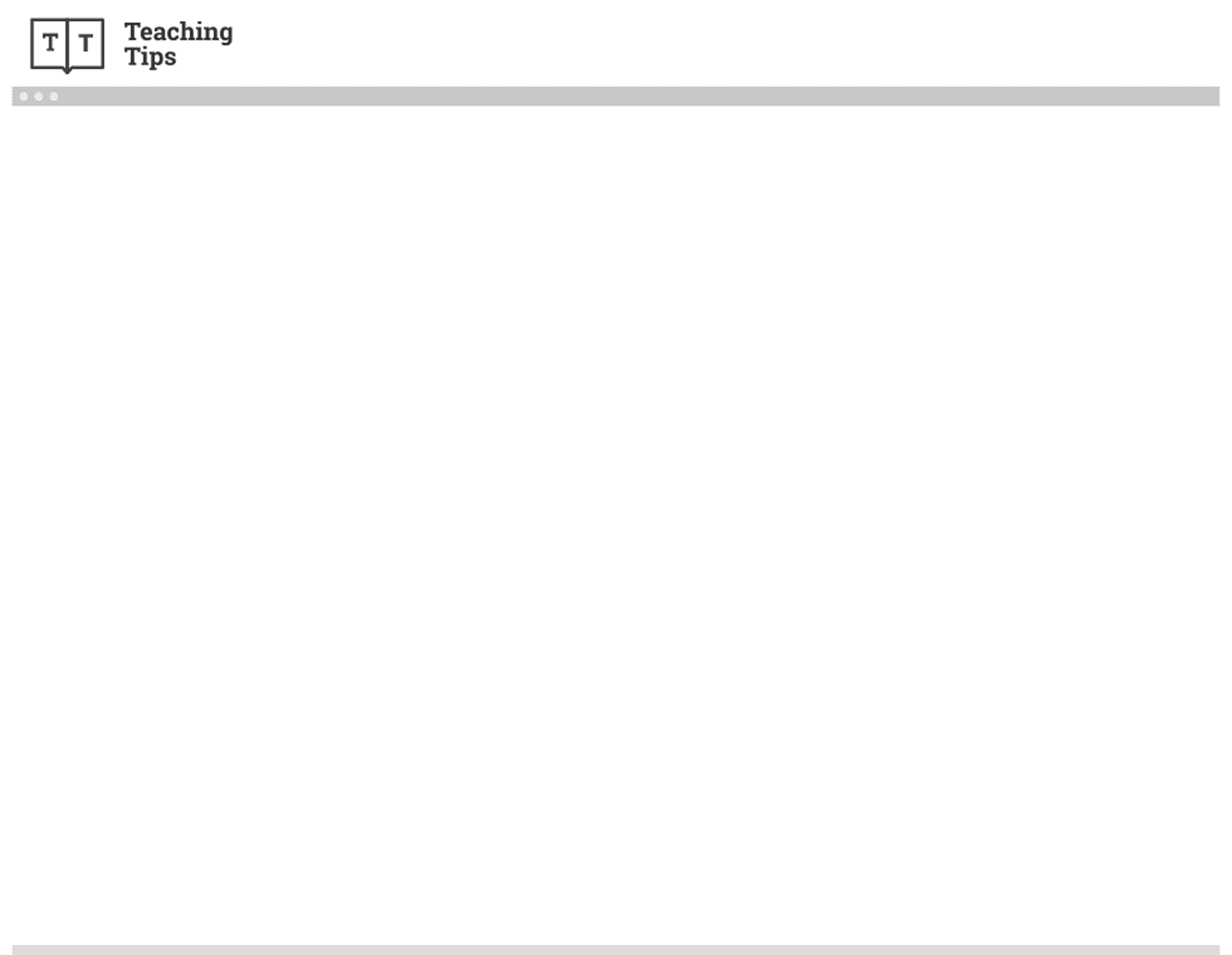 ThinkCERCA Classic Overview

Let's look at a ThinkCERCA Classic Writing Lesson.
In every Writing Lesson, students are guided through a six-step scaffolded process of close reading and writing resulting in a strong cohesive written argument with lots of opportunities for peer-to-peer collaboration along the way.


Step 1: Connect
Students start with a topic overview and a personal connection question to get them immediately writing and thinking about the topic.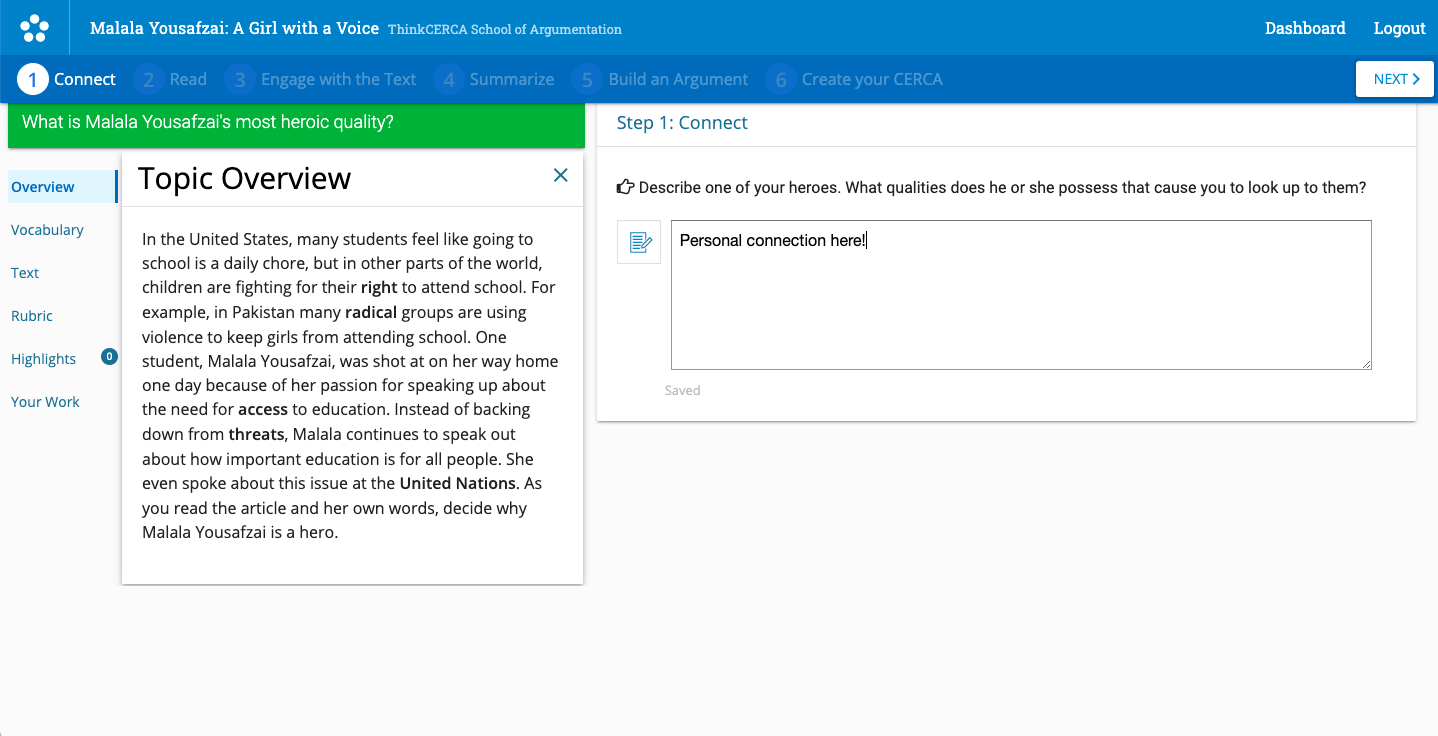 Opportunity for Discussion: Ask students to share their responses with a classmate. For students who have different texts, make sure they clearly state their connection prompt.


Step 2: Read
Next, students read an authentic text—which they can listen along to for fluency—and complete a five-question comprehension check.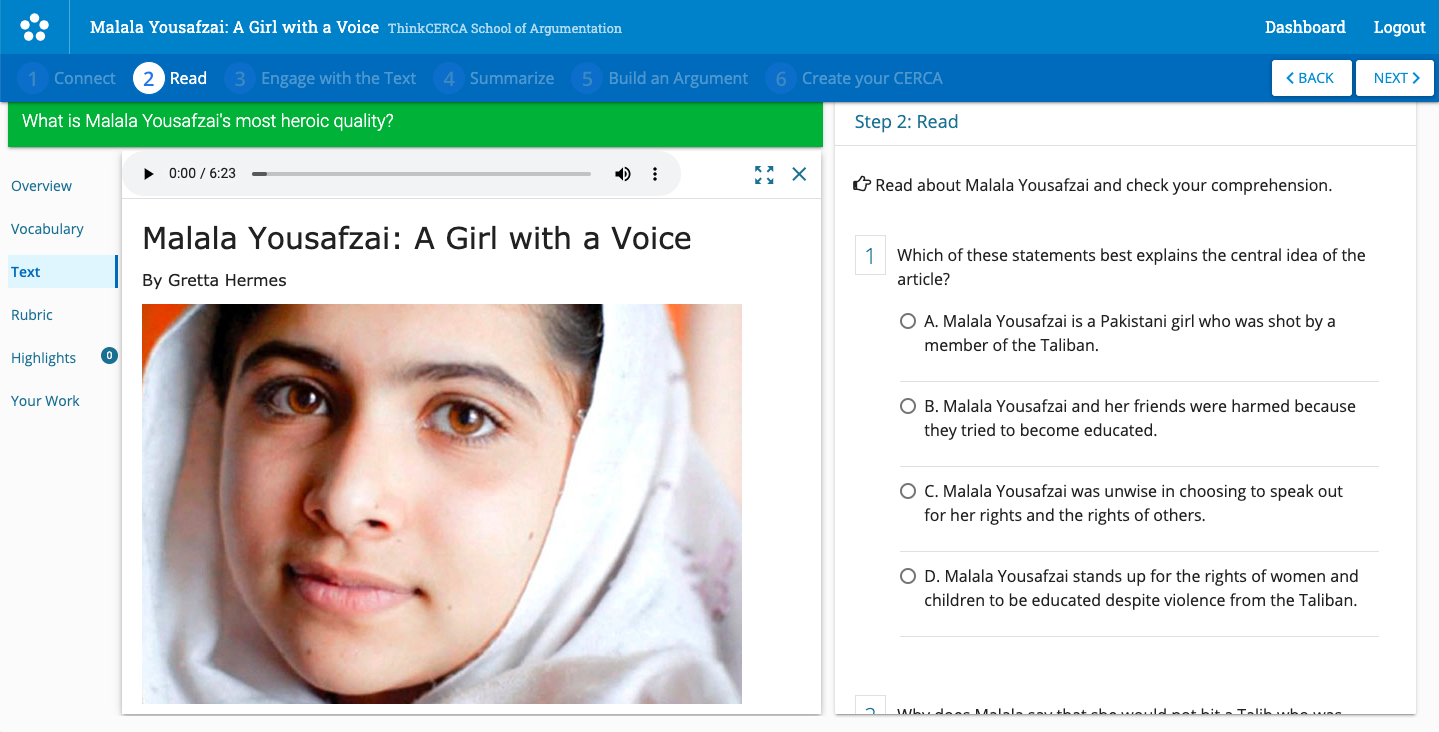 Opportunities for Discussion: Once students finish reading, encourage them to talk to peers about what they read. During the comprehension check, have them review their answers with a peer before they submit. Encourage students to dig back into the text to prove their choices. Once students see their overall performance, have them reflect in pairs on why the correct answer is correct using evidence and reasoning.


Step 3: Engage with the Text
In step 3, students begin to start thinking critically about the text and the essential question that they will eventually need to build their essay around. Students are instructed to highlight and annotate evidence in response to two discipline-specific prompts. These highlights will eventually be used directly in their written essay.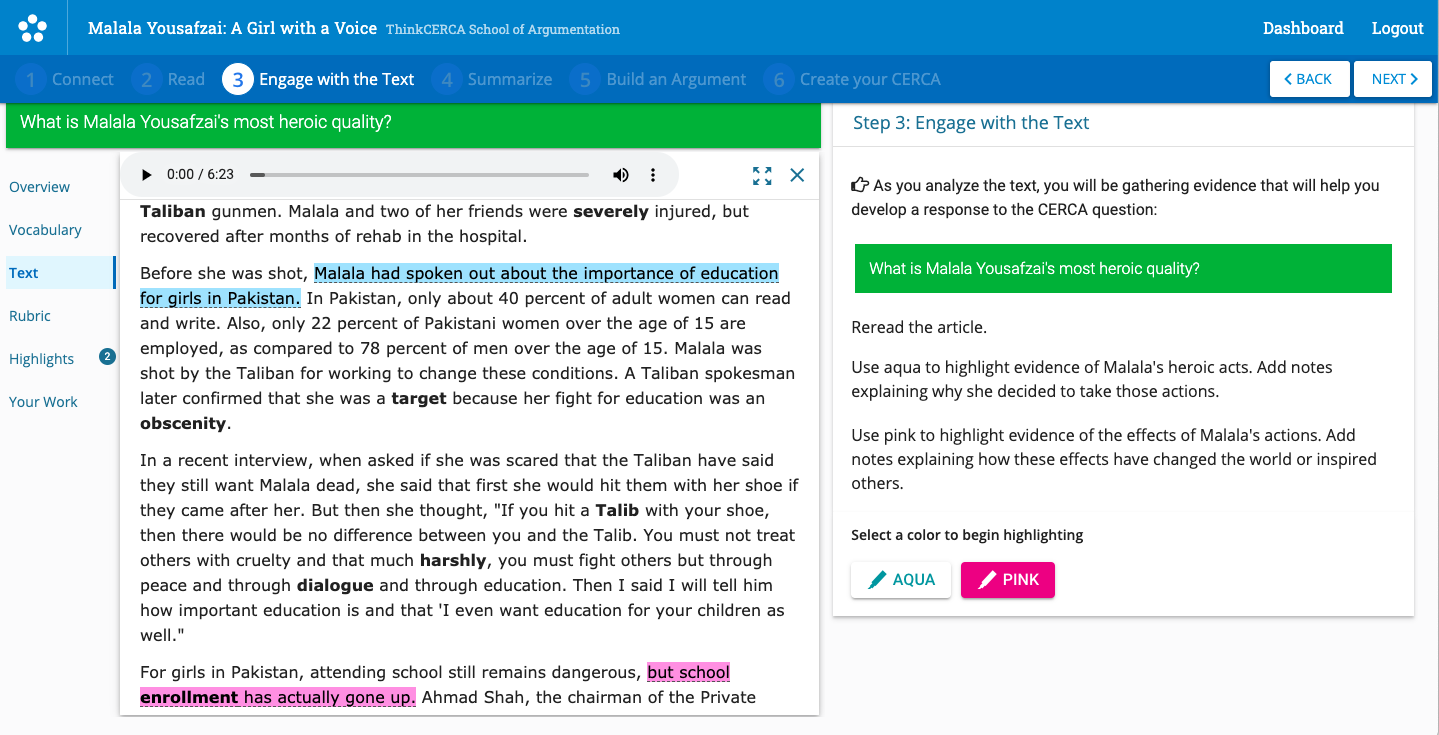 Opportunities for Discussion: Have students partner with a peer and find evidence together. Ask them to get into groups and split the focus: half the group finds the pink highlighted topics, half the group finds the aqua highlighted topics. Students then discuss with their peers the evidence they found, the notes they took, and any questions they may have.


Step 4: Summarize
Next, students put what they read into their own words by summarizing the text.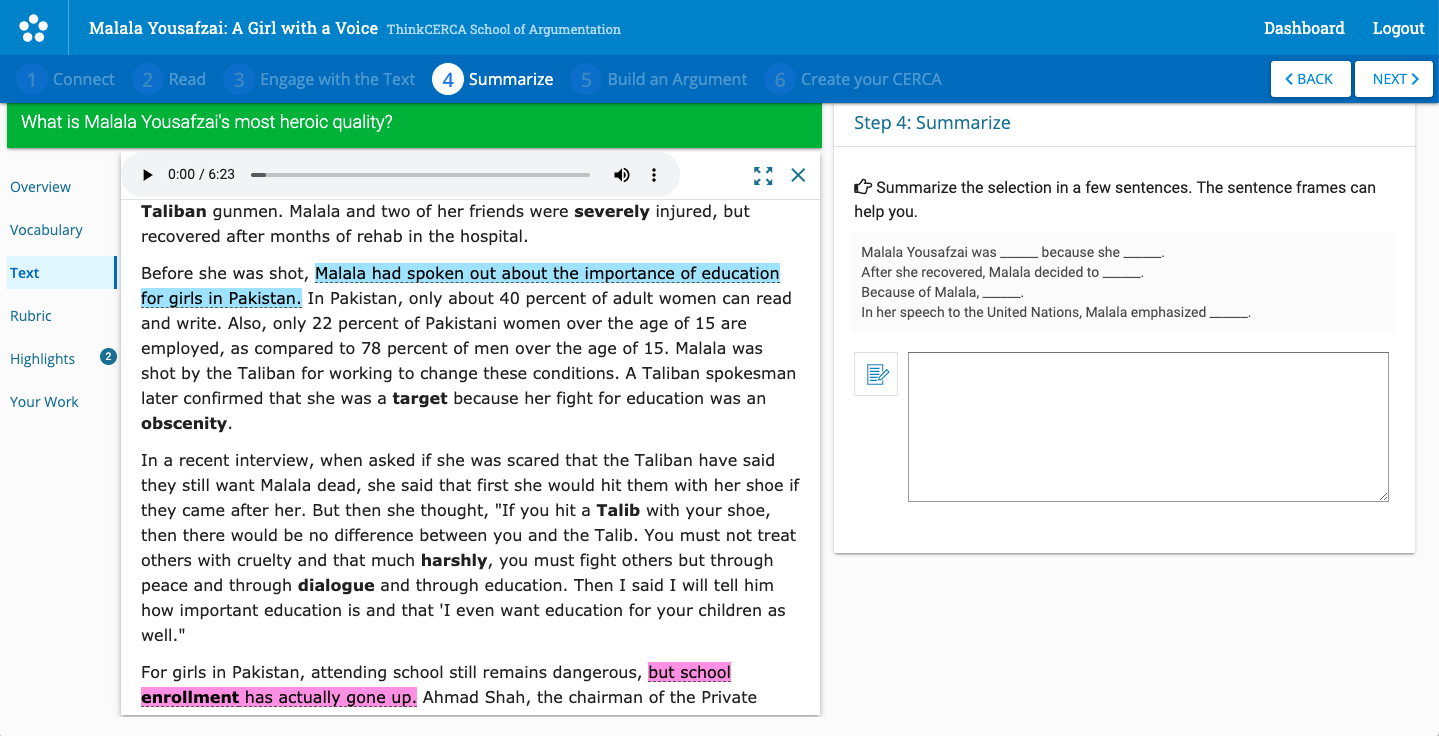 Opportunity for Discussion: Have a few students share out their summary and encourage students to ask them questions about the article.


Step 5: Build an Argument
At step 5, students get into the heart of CERCA by developing their response to the writing prompt using our proprietary, built-in graphic organizer tool. This interactive graphic organizer guides students through the CERCA Framework, helping them to organize their writing.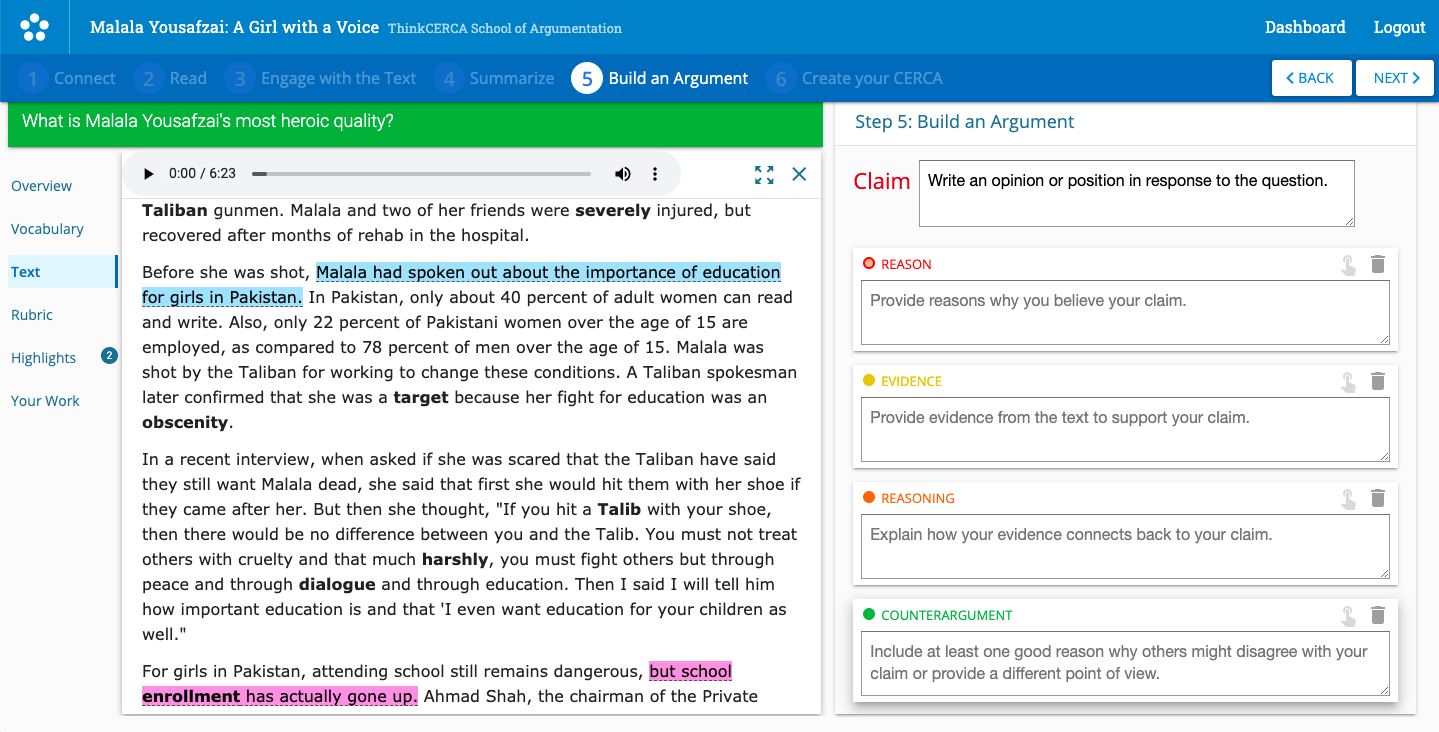 Opportunity for Discussion: Encourage a turn-and-talk during this step in which students share their claim and the evidence that supports their claim.


Step 6: Create your CERCA
Every step has prepared students for the final step, which is to write a formal essay.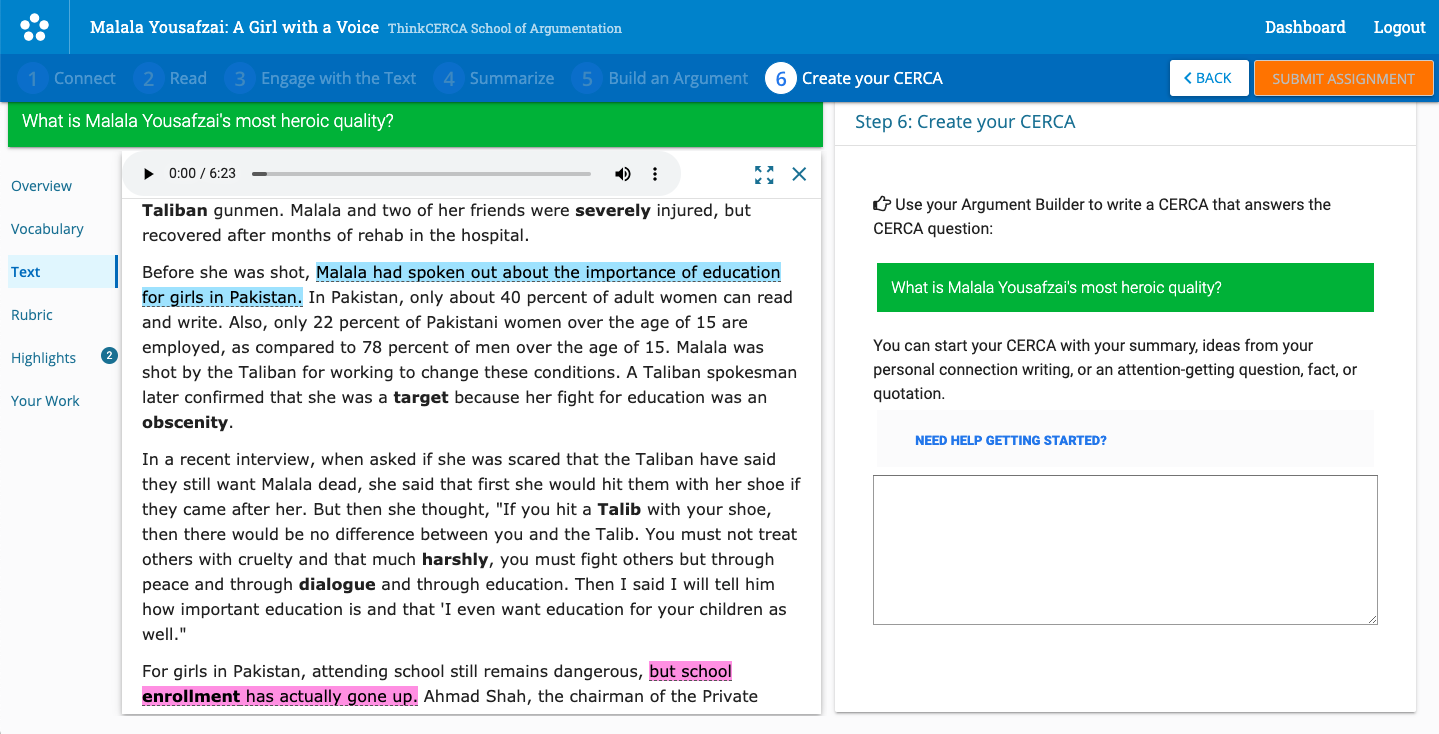 Opportunity for Discussion: Peer editing! Have students switch seats with a peer and read their partner's writing. On a separate piece of paper or as a discussion, have students provide feedback on:
The claim, evidence, reasoning, and counterargument
The clarity of who the audience is (and does the language match)
The introduction and conclusion
Overall cohesiveness
---
Additional Support
Our team is available to guide you through this transition. If you would like a virtual overview of ThinkCERCA Classic, please email support@thinkcerca.com or email your School Success Manager directly. Also, view a detailed walk-through of a ThinkCERCA Writing Lesson in ThinkCERCA Classic below. Additionally, here are some useful resources to help your team get reacquainted with ThinkCERCA Classic:
Until we make the switch to ThinkCERCA Classic, please continue to send any technical issues to support@thinkcerca.com. We have implemented a number of bug fixes in the last week, but your feedback is critical so we know if these fixes are working.
Our product would not be where it is today without educators like you. We do not take your partnership for granted, and we look forward to rebuilding your love and trust for ThinkCERCA.
Like Us on Facebook

Did you learn something from this article?
Like ThinkCERCA on Facebook to see more of this content.