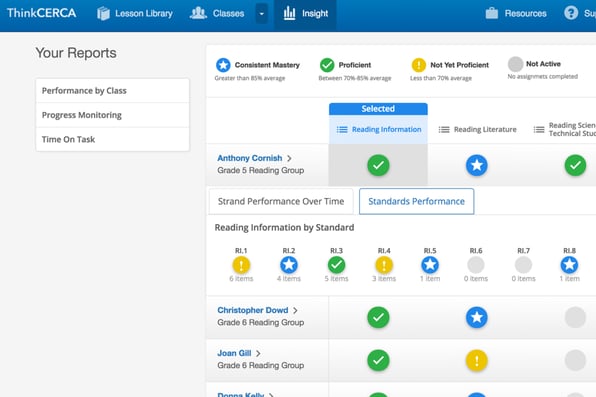 Product Update: Downloadable Class Reports and Insights on Standards Performance
Over the the weekend, our development team launched two key features that should make your lives—our teachers and administrators—easier and more insightful. Here's a rundown of these changes and where to find them in the product. And as always, email us at support@thinkcerca.com with any questions or concerns.
Downloadable Class Reports
Gone are the days of manually uploading ThinkCERCA assignment data into your grade book. Our Class Summary pages now include a way to download raw assignment data for importing automatically into your grade book. Additionally, teachers can play with this data in a number of ways using Excel to spot trends pertaining to students' grades and completion history.
First, select the Classes dropdown from the top navigation bar, find the class you are looking for, and select the Class Summary link.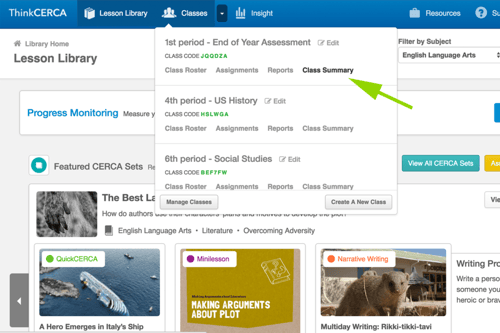 At the top of the page, select the "Download CSV version" to download ThinkCERCA assignment data for each student.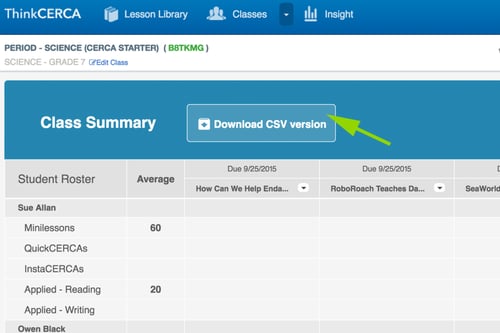 This CSV file includes the following information for each student:
Lesson title
Lesson status (completed, in progress, needs grading, not started)
Multiple choice score
Writing score (if applicable)
Grade level of the lesson
Student's reading level at the time of assignment
Student's enrolled level at time of assignment
Lesson type
Submission date
Due date
Primary standard
Writing standard
Reading standard
Student-level Insights on Performance by Standard
Get more granular information on how students are performing on standards with the latest addition to our Performance by Class Insight report. In addition to performance by strand data, which we launched a few weeks ago, teachers and administrators can access data on the specific standards under each strand. With this data, teachers can use student work as a formative assessment to identify next steps. For example, if you see a student is struggling with Reading Informational Text, you can drill down further to see which specific standard or standards they need to work on (i.e. RI.1 through RI.10) and assign additional ThinkCERCA lessons accordingly.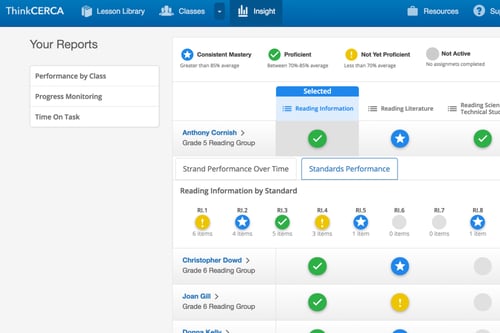 Need Help?
For more information on navigating these new reports, visit our support site or the links below: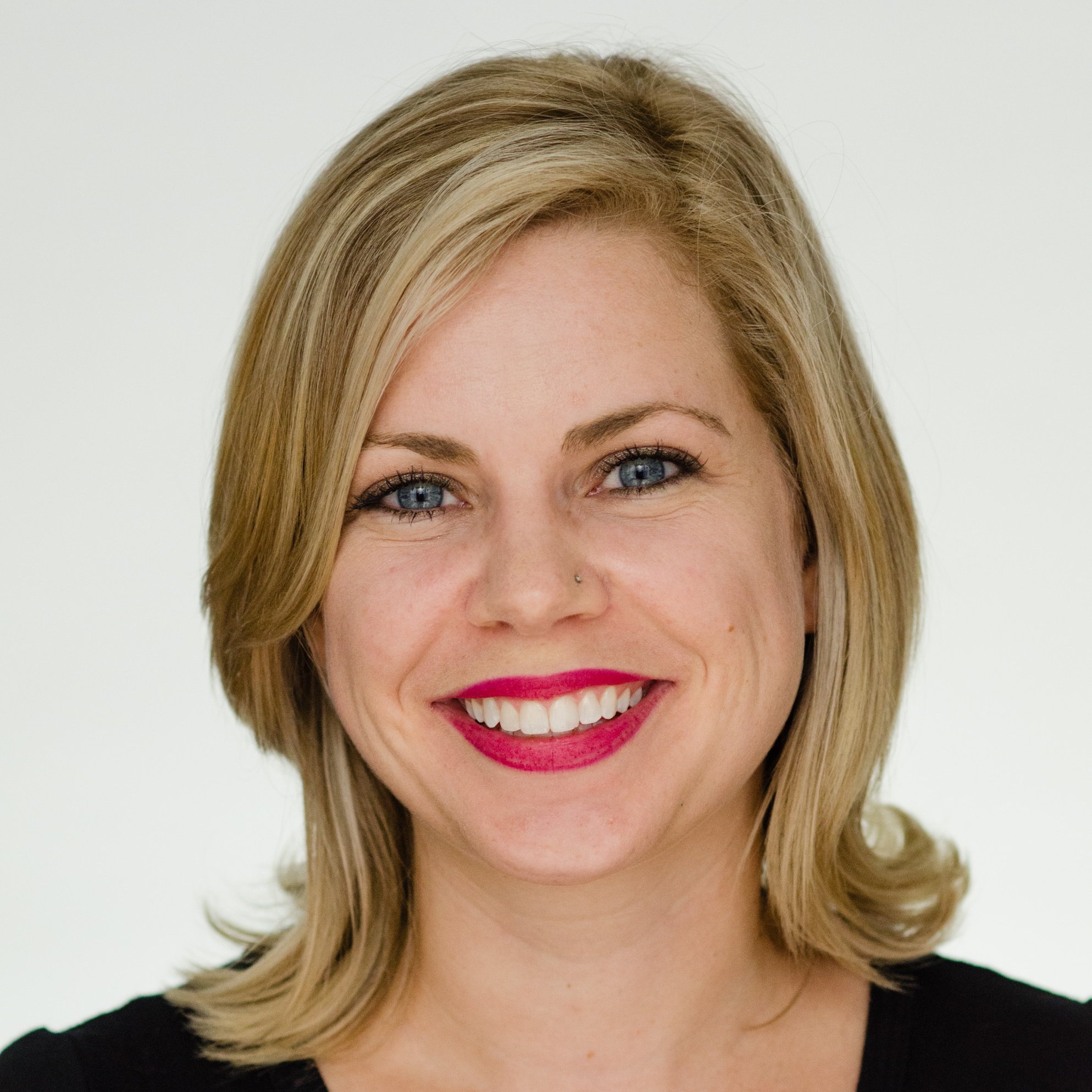 Elizabeth Riley Boyer
Elizabeth Riley Boyer is an experienced journalist, digital content strategist, and operations manager. Prior to joining ThinkCERCA, she was part of the founding team at Impact Engine, Chicago's first social impact investment fund and accelerator. As Impact Engine's Director of Operations & Communications, Elizabeth oversaw the company's overall processes, day-to-day planning and finances, curriculum development, marketing strategy, and community outreach.

Elizabeth also spent three years at Chicago magazine, most recently as its Digital Engagement Editor, where she managed the organization's social media and reader engagement initiatives. Elizabeth also works as a freelance content strategist, writer, and communications consultant. Her recent writings on impact entrepreneurship have been featured by the Huffington Post and Crain's Chicago Business.

In 2007, Elizabeth helped open a private school for underprivileged children while volunteering for a nonprofit organization in the Dominican Republic. This experience inspired her to quit a paper-pushing job at an insurance brokerage firm to pursue a master's degree in journalism from Northwestern University. Elizabeth also holds a bachelor's degree in American studies from the University of Texas at Austin.