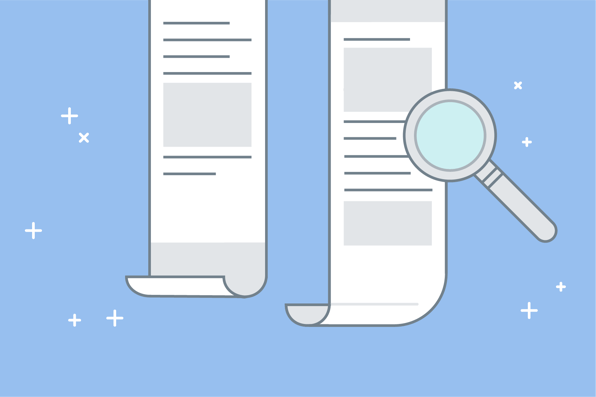 Product Update: Grade Level and Classroom Usage Reporting for Admins
Updated reporting tools for administrators.
It may be summer break, but the wheels that keep ThinkCERCA running never slow down. To give administrators better visibility into their team's progress, we've updated our grade-level and classroom usage reporting features. Not only do these reports help administrators ensure that they're hitting their targets, but they also provide visibility into student growth.

School and district administrators will now see a new report that shows the usage of the application in terms of assignments, for each student enrolled in the school. From this report, district admins can also edit every school roster in their district.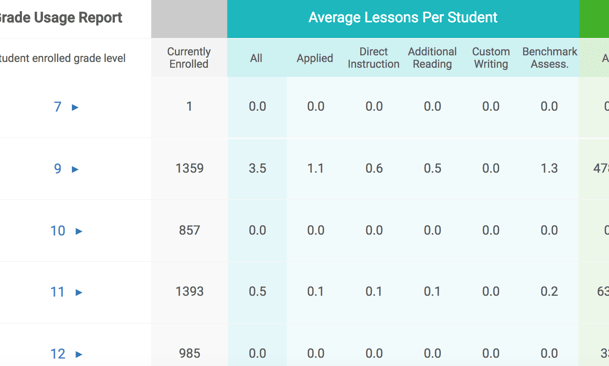 Grade level report showing assigned lessons
Teachers and administrators can also access the Class Usage report from this view to see what is happening at the class level.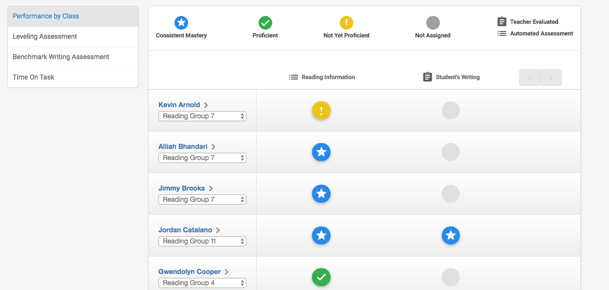 Classroom report showing a snapshot of how all the students are performing on "Reading Information."
We suggest administrators view these reports at least once a month to monitor their school's progress toward getting to 10 Applied Lessons per student throughout the school year. As recent third-party studies suggest, students who regularly use Applied Reading and Writing lessons see up to three years of reading growth in a single school year.
Alexandra Pratt
Alex is an experienced content strategist, digital marketer, and storyteller. Prior to joining ThinkCERCA, she worked at Yik Yak, a mobile app startup. As Yik Yak's Content Marketing Manager, she developed the company's content strategy, launched campaigns that amassed hundreds of thousands of new users, and grew Yik Yak's social media communities to over 2 million followers worldwide. In addition to working as ThinkCERCA's Inbound Marketing Manager, Alex is also a freelance content strategist and writer. In her spare time, she enjoys working out, spending time outdoors with her family, and volunteering with Autism Speaks and the Special Olympics of Georgia. Alex earned her Bachelors of Science from Kennesaw State University in 2011 and hopes to further her formal education in the years to come.