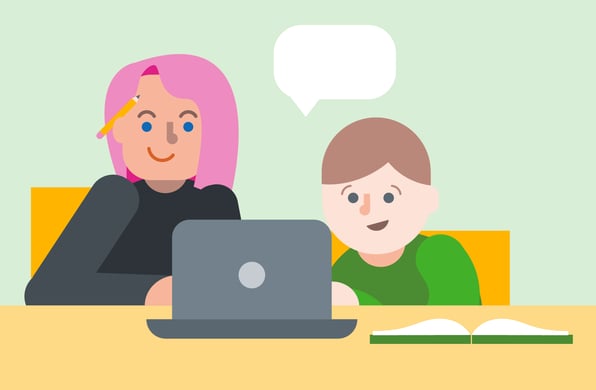 Stories from the Classroom: Incorporating ThinkCERCA into Special Education Curriculum
How one Connecticut teacher uses ThinkCERCA to engage her special education class.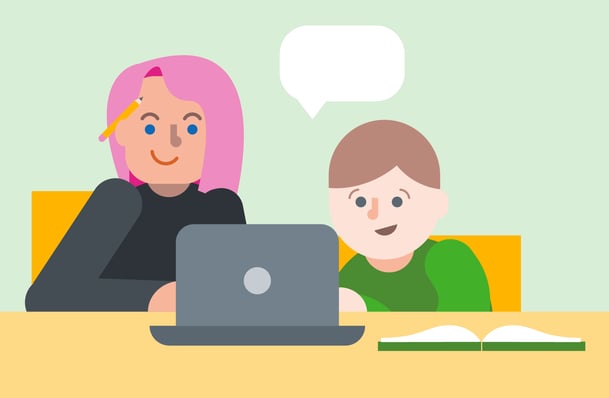 At ThinkCERCA, we believe that developing meaningful relationships with our teachers and administrators are just as important as building a robust literacy platform. Over the years, our success team has had the opportunity to meet with and learn from many inspirational educators across the country. One of whom, we recently chatted with to better understand how she incorporates ThinkCERCA into her special education classroom.
Michelle has been a special education teacher for the last 17 years. She currently teaches geometry, algebra, math applications in the real world (a math curriculum she is designing herself), science, life skills, and vocational skills to 9th through 12th graders participating in a state-run special education program. This program aims to address the educational, behavioral, and emotional needs of both residential and day school students.
Note: This conversation has been lightly edited for grammar and clarity.
Why did you become a teacher?
I wanted to become a teacher to make a positive impact on our future children. I felt that I should contribute the excellent education I received growing up in Southington, Connecticut. I had a desire to inspire our future children to be lifelong learners by supporting the education system.
What's your favorite part of being a teacher?
My favorite part of being a teacher is designing curriculums based on my students' needs. I love every aspect of teaching. I have taught in almost every aspect of a special education classroom. My previous employment was working in a self-contained program. My 15-year middle school program ranged from [ teaching students with] multi-disabilities, autism, to severely learning disabled. I have received letters from parents who were grateful for the progress his/her child made during their middle school years with me. I cherished those learning moments when my students could translate the skills I taught into real-world application.
How long have you been using ThinkCERCA?
I started using ThinkCERCA at the beginning of the school year. I was looking for a cross-curricular, mastery-based instructional approach. My students are reluctant learners and require engaging material with high interest. ThinkCERCA helped solve my students' frustration levels by matching the text to each reader's ability.
Why did you start using it?
The literary framework encompasses supporting students in becoming fluent readers and writers, speakers, and critical thinkers. ThinkCERCA has teaching units linked to [text-self, text-text, and text-world] connections. Each CERCA Set has individual short lessons which include vocabulary, close reading, and writing. The students enjoy the lessons because the material captivates their interest. It's also increased on-task performance and decreased behavioral issues.
How do your students' learning needs differ from students in a traditional classroom?
The students come from different school systems, different grade levels, and abilities. Instruction has to be tailored to each student's strengths and weaknesses. ThinkCERCA helps to address these issues by outlining the learning objectives for the individual lesson being taught. All of my students have different learning styles and require differentiated instruction. The lesson plans provide strategies and resources.
What's your favorite ThinkCERCA feature?
[The lessons are] designed to correlate with Common Core State Standards. ThinkCERCA is student focused and provides quantitative and qualitative information to assess ongoing progress.The platform provides instructional supports, differentiated lessons, and resources.
What are your favorite lessons you like to teach?
Lesson Title: Just Call Me Frank
CERCA Question: Will raising awareness about the "r-word" solve the problem, as Frank Stevens claims, or will other steps be required to get people to stop using it as an insult?
My students had the background knowledge of Spread the Word to End the Word, Unified Sports, and Special Olympics. I volunteered as a Unified Sports Coach for 10 years in my previous employment. My students had the pleasure of volunteering at a Unified Sports Elementary Tournament.
The Bullying "Overcoming Adversity" [informational] CERCA Sets provided relevant, debatable topics or a theme to keep students' engaged. These sets built on students' background knowledge and close reading skills. They read leveled texts that were just right for them. These topics; such as bullying or social media was a topic teenagers could relate to, and analyze the effects it has on individuals, families, and communities.
Overall, how has ThinkCERCA empowered and encouraged you to become a better teacher?
ThinkCERCA has encouraged me to reflect on my teaching style. It aligns curricular contents with supports and level of challenges. The use of multiple sources of data to determine individual students' prior knowledge and skills target instruction to advance the learning of students is very helpful.
Thanks, Michelle, for sharing your story with us!
Alexandra Pratt
Alex is an experienced content strategist, digital marketer, and storyteller. Prior to joining ThinkCERCA, she worked at Yik Yak, a mobile app startup. As Yik Yak's Content Marketing Manager, she developed the company's content strategy, launched campaigns that amassed hundreds of thousands of new users, and grew Yik Yak's social media communities to over 2 million followers worldwide. In addition to working as ThinkCERCA's Inbound Marketing Manager, Alex is also a freelance content strategist and writer. In her spare time, she enjoys working out, spending time outdoors with her family, and volunteering with Autism Speaks and the Special Olympics of Georgia. Alex earned her Bachelors of Science from Kennesaw State University in 2011 and hopes to further her formal education in the years to come.