Using ThinkCERCA to Impact the Instructional Core on the Quality Review
How one Brooklyn middle school strengthened the curriculum, pedagogy, and assessment indicators on New York's Quality Review Report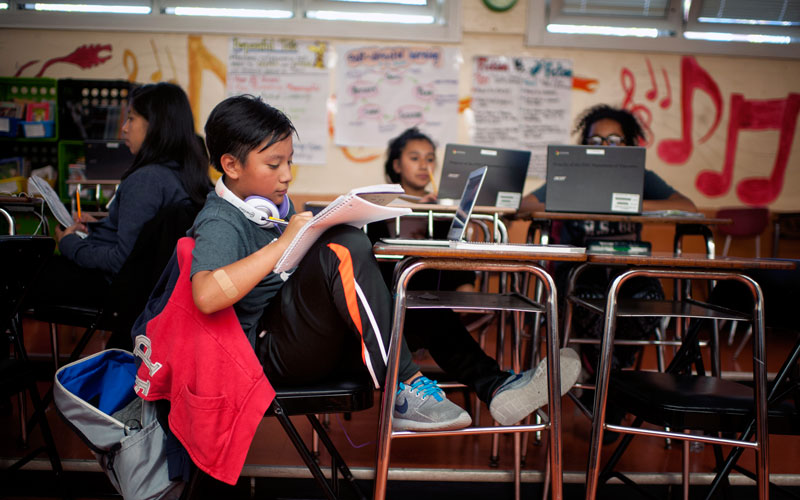 "The amount of discussion and accountable talk that the students are doing is just phenomenal," Assistant Principal Maria Delfini said recently.
Maria is the grade seven assistant principal at I.S. 281 (Joseph B. Cavallaro Intermediate School) in Brooklyn, New York. Across the curriculum, her middle school teachers use ThinkCERCA to engage students in rigorous instruction. They practice the CERCA Framework (Claim, Evidence, Reasoning, Counterargument, Audience) as a means to help students develop evidence-based conversation about literary and informational texts.
It's a practice which the school's 2017 Quality Review Report highlighted. The reviewer for I.S. 281 reported that:
"In an English Language Arts (ELA) class, the teacher assigned students to small groups based on their benchmark data and required them to discuss and independently respond to a written prompt question on Walt Whitman. The teacher reviewed academic vocabulary, clarified student roles as both speakers and listeners and provided students with a claim, evidence, and reasoning (CER) chart to support their responses. Students in this class shared their thinking openly with their peers and took notes when they heard new evidence. During the whole class share students responded freely to each other without the need for teacher prompting."
The ELA class highlighted by the reviewer used ThinkCERCA's benchmark assessment, differentiated Walt Whitman lessons, and the CERCA Framework to deliver rigorous instruction to students.
By implementing ThinkCERCA, I.S. 281 was able to improve their rating in the Quality Review's Instructional Core indicator 2.2 (Align Assessments to Curricula) from "developing" to "proficient." After using ThinkCERCA for just one year, the school's Rigorous Instruction rating improved from "fair" in the 2015-16 School Quality Snapshot to "good" in the 2016-17 School Quality Snapshot.
"What ThinkCERCA does is it allows the school's integration of the instructional shift into the teachers' practice," Maria said. "Going to the shift in the Principal Performance Review, the amount of rigor that the students are doing in the classroom has definitely improved."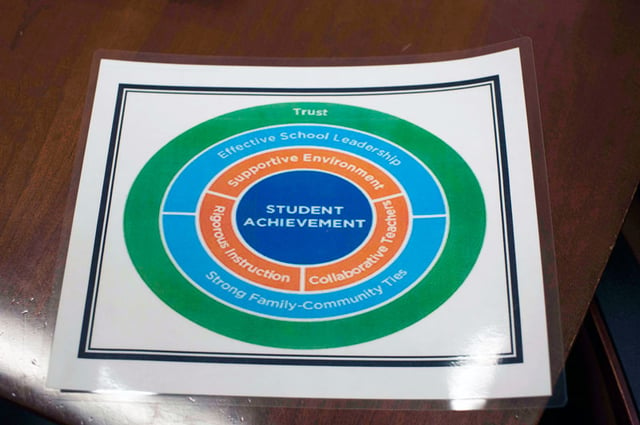 A laminated copy of the New York Framework for Great Schools, which is used to inform the Quality Review, sits on a desk.
---
How ThinkCERCA Impacted Every Aspect of the Instructional Core in the School Quality Review
Quality Indicator 1.1: Curriculum
Definition: Ensure engaging, rigorous, and coherent curricula in all subjects, accessible for a variety of learners and aligned to Common Core Learning Standards and/or content standards.
In the detailed findings of indicator 1.1 in the 2017 Quality Review Report, the reviewer described how I.S. 281 teachers brought the CERCA Framework into instruction:
"Across grades and content areas, teachers integrate writing from sources into the curricula and plan for students to support their claims with text-based evidence. Across content areas, teachers include CER charts to support students in selecting appropriate text-evidence to support their opinions and prove their claims."
ThinkCERCA, Maria said, "has allowed the teachers to develop a common language across the content areas."
Maria also noted how ThinkCERCA helps her teachers to ensure that their curriculum is engaging and rigorous but still accessible and coherent for a variety of learners. I.S. 281 supports a dual language program, in which students learning English take two classes taught in Mandarin and two classes taught in English.
"The growth that we have seen [appears] not only in writing, but also in the academic discussion, and accountable talk with our English language learners, and the results on the state exam – with an increase in their performance levels – and a growth percentile of over 50 percent," Maria said.
"Along with that, some of these kids are moving one or more levels from starting out when they first came – they were emerging – and now they have moved one or more levels in the Writing Modality on the NYSESLAT exam. So we are definitely seeing a tremendous amount of growth academically and also socially with the students with ThinkCERCA."
---
Quality Indicator 1.2: Pedagogy
Definition: Develop teacher pedagogy from a coherent set of beliefs about how students learn best that is informed by the instructional shifts and Danielson Framework for Teaching, aligned to the curricula, engaging, and meets the needs of all learners so that all students produce meaningful work.
In I.S. 281's Quality Review Report, the reviewer noted that "across classrooms visited, teachers used a variety of verbal and written questions to prompt student thinking and engage all students, including ELLs and students with disabilities, in challenging tasks."
The use of writing prompts and essential questions to discuss texts is key to ThinkCERCA's pedagogy. To ensure that students are able to balance informational reading and literary works (one of the six shifts in ELA/Literacy for EngageNY), Maria said that her classes supplement literature with informational texts from ThinkCERCA that relate to the theme or topic of the novel.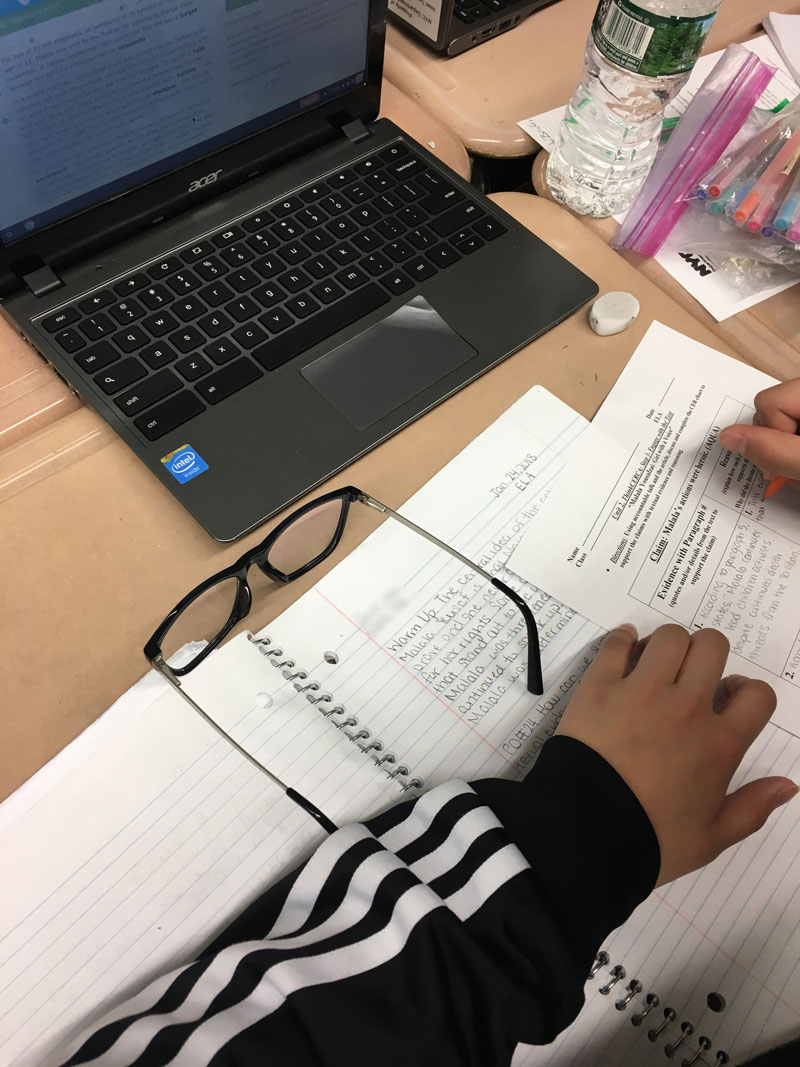 In step 3 of ThinkCERCA's Writing Lesson, a student at I.S. 281 engages with the informational text and cites evidence and reasoning to support a claim.
Maria also brought up a class she observed recently, which included students with disabilities and students learning English. The teacher and co-teacher of the class were using ThinkCERCA in a Socratic seminar that balanced informational and literary texts.
"You could not tell that this was a class with students with disabilities and English language learners due to the rich dialogue that was going on during that Socratic seminar," Maria said. "The connections students were making with the novel they were reading about Frederick Douglass to an informational piece about Malala – which is a thing that is happening in the real world – it was just a breath of fresh air to see. You would have thought this was an honors class."
---
Quality Indicator 2.2: Assessment
Definition: Aligning assessments to curricula, use on-going assessment and grading practices, and analyze information on student learning outcomes to adjust instructional decisions at the team and classroom levels.
"Across most classrooms," I.S. 281's Quality Review Report noted, "teachers use data from student assessments to provide actionable feedback to students and make effective adjustments to meet student learning needs."
By using ThinkCERCA's Writing Benchmarks, I.S. 281 is able to easily align ongoing assessments to curricula. "Already we're seeing a difference from the beginning-of-the-year to our mid-year evaluations and we're definitely seeing growth in our students," Maria said.
By comparing state assessments to data from ThinkCERCA's administrator dashboards, Maria and her team were also able to note that "When we looked at the results from the exams, our students who were exposed to ThinkCERCA and the teachers who used ThinkCERCA the most had the most growth, with students' growth percentile over 50 percent. Which is amazing."
---
Incorporating ThinkCERCA with Existing Curriculum
While ThinkCERCA has been instrumental in helping the team at I.S. 281 to integrate instructional shifts and implement rigorous curricula across content areas, teachers have also been able to use ThinkCERCA in tandem with other systems, like Code X and EngageNY.
The ELA teachers, Maria noted, looked at the scope and sequence for science and social studies classes and used ThinkCERCA's articles to correlate instruction to topics that students would be learning about in other subjects.
"Giving them the prior knowledge was huge, was wonderful," Maria said about the cross-curricular planning and instruction. "Kids are building academic vocabulary through ThinkCERCA but it's also interdisciplinary… They're able to retain information because they learned about it already. So we're just seeing very positive results throughout all curriculum areas."
---
Continue Your Learning:
Listen to Corona Arts & Sciences Academy Principal Beth Hert and ThinkCERCA Founder Eileen Murphy discuss the shifts instructional leaders must make to meet all 10 indicators of the Quality Review.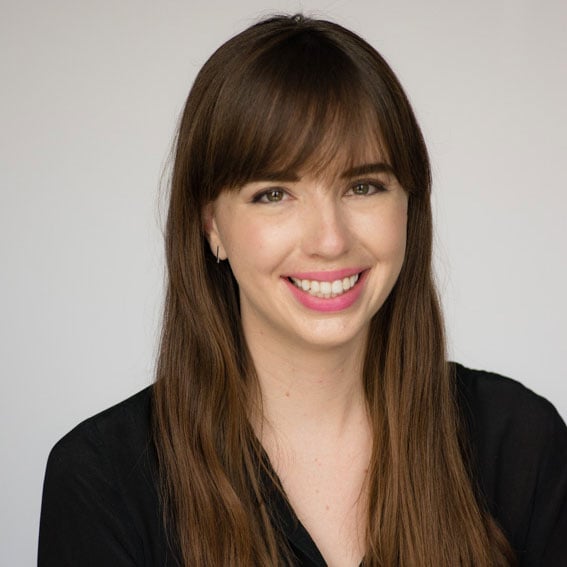 Mallory Busch
Mallory Busch is ThinkCERCA's Editor of Content Strategy. A graduate of Northwestern University, Mallory came to ThinkCERCA from stops in audience strategy at TIME magazine and news applications development at Chicago Tribune and The Texas Tribune. She holds degrees in Journalism and International Studies, and was a student fellow at Knight Lab in college.