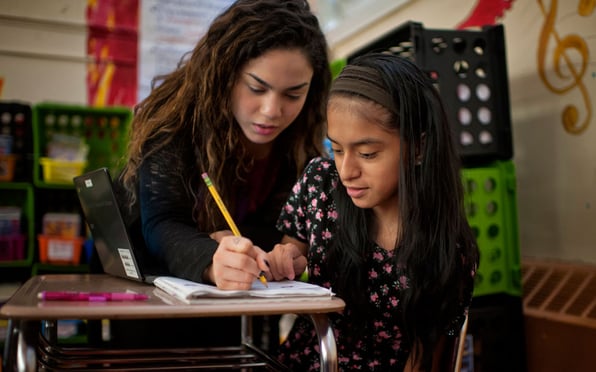 6 Things Every Education Leader Should Know About Equity
Here's what we learned when the chief equity officer in Charlotte, two school leaders in Chicago, and a teacher in Los Angeles discussed equity.
Despite decades of analysis and initiatives, opportunity gaps persist for many students — from low-income students and students from various racial backgrounds to students with disabilities and those learning English as a second language.
With conversations about equity on the rise, many instructional leaders are looking for tangible ways to expand learning opportunities for today's underrepresented populations. That's why ThinkCERCA brought together four educator perspectives – from a teacher in Los Angeles to the Chief Equity Officer of Charlotte-Mecklenburg schools – to share their knowledge on equity in education.
Together, these four educators discussed their experiences with equity and shared practical advice for other educators seeking to address equity in their districts. They showed how instructional leaders can consciously confront disparities within their school or district to ensure high-quality academic experiences for all.
---
6 Takeaways from the Discussion:
Equity is for everyone, but it looks different for different groups. In discussions with school communities about equity, it helps to emphasize that equity does not mean one group of students are more important. Rather, some groups of students may need more support to achieve their potential.
Part of improving equity in education means opening access to high-quality educational resources and instruction. And it doesn't stop at providing access. For instance, district leaders can help bring in AP classes to a school. But students shouldn't just be able to just take college-level courses. They should have the support and instruction that ensures they perform well in those courses – and transfer those skills to success in college.
Equity is also about addressing injustices that surface in areas beyond classroom instruction. For instance, do students have access to a computer and wifi outside of school? Do their parents? Is there chronic absenteeism for some students? Do certain groups of students get suspended at higher rates than others? Once these differences are identified, leaders can seek to understand their cause – and how some school initiatives (such as a Chromebook-to-home program) can begin to close specific gaps.
It's on district and school leaders to communicate the mission and vision of equity to their team. Principal Pollard shared that she starts every school year with an address to stakeholders, which gives her team an opportunity to begin the conversation of equity with the full school community. Administrators can also cultivate a team of advocates and early adopters to help launch an equity initiative.
Addressing equity has to begin with measuring the data. As Dr. Barnes shared, in Charlotte-Mecklenburg Schools, "We first had to recognize that we had to be able to measure [equity] to be able to have a discussion about it." By gathering and analyzing data, school and district leaders will be able to confirm hypotheses, monitor gaps, plan initiatives, and measure if those initiatives make an impact.
Leaders need to maintain a growth mindset. "If I could give any advice," Assistant Principal Roberson said, "It would be to keep the students at the forefront, and to make sure that the educators and the leaders have a growth mindset." Addressing equity is difficult, and requires a constant assessment of learnings. But with a growth mindset, leaders can transparently address these gaps, and provide the training to help teachers become partners in the initiative too.
These takeaways are just the tip of the iceberg, though. To continue your learning on equity in education, you can view the full discussion here:
Alexandra Pratt
Alex is an experienced content strategist, digital marketer, and storyteller. Prior to joining ThinkCERCA, she worked at Yik Yak, a mobile app startup. As Yik Yak's Content Marketing Manager, she developed the company's content strategy, launched campaigns that amassed hundreds of thousands of new users, and grew Yik Yak's social media communities to over 2 million followers worldwide. In addition to working as ThinkCERCA's Inbound Marketing Manager, Alex is also a freelance content strategist and writer. In her spare time, she enjoys working out, spending time outdoors with her family, and volunteering with Autism Speaks and the Special Olympics of Georgia. Alex earned her Bachelors of Science from Kennesaw State University in 2011 and hopes to further her formal education in the years to come.